The Mont Blanc Massif sits astride France, Switzerland and Italy and constitutes a unique territory rich in extraordinary natural and cultural heritage. Its glaciers and eternal snows have exerted, since the mid-18th century, an incredible pull. Its valleys have been progressively transformed and equipped to meet the ever-growing demands of tourism. The construction of the Mont Blanc tunnel in the 1970s followed by the opening of the Autoroute Blanche and the Aosta valley motorway marked a turning point, as the massif was now located on a major through road. Known across the world, and sometimes criticised for its over-zealous development, the Mont Blanc Massif remains nonetheless a fantastic place for wonder and learning about nature.
The Mont Blanc Massif today is particularly affected by global warming, the consequences of which are all too visible. The spectacular melting of the glaciers, a drop in snowfall, rock falls, and harm to the habitats of animal and plant species, all bear witness, more than ever, to the vulnerability of the mountain environment to human choices. Protecting and defending this natural space and the species to which it is home, is also about protecting our own well-being and health. To know it better is to love and thus preserve this beautiful but all too fragile mountain biodiversity.
On 24 July 2021, 200 years to the day after its foundation, the Compagnie des Guides de Chamonix created the fonds pour l'environnement et la haute nature - fund for the environment and nature. Recognised as a charitable organisation, the aim of the FOEHN fund is to support environmental programmes, in particular measures aimed at the mountain environment. These measures are centred on three main themes: observing, protecting, and raising awareness. They include, for example, supporting research, establishing teaching programmes and safeguarding or restoring ecosystems.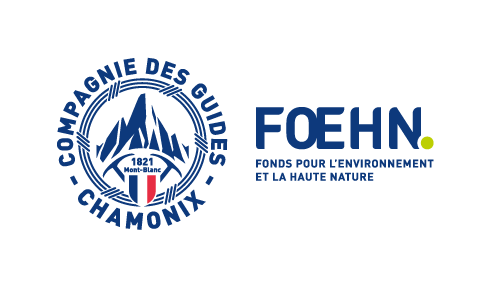 Events
March-June 2022 | CPM Team: Connaitre et Protéger la Montagne - Understand and Protect the Mountains
In 2022 the FOEHN fund financed a free training cycle aimed at children living in the Chamonix valley aged 10 to 12 to help them discover the mountain environment. Under the auspices of the 'Understand and Protect the Mountains' team each Saturday from March to June the children explore the mountain environment, the species that live there and inhabitants who make it up. They are also made aware of the issues with which the valley is being confronted within the context of global warming.