Collect funds for the guides' benefit fund
The first Fête des Guides (guides festival) took place on 15 August 1924 with, as its patron, Yvonne Coty, the wife of the famous perfume producer, François Coty. Having historically been under the protection of the Virgin Mary, the guides naturally chose Assumption day for their event. The aim of the first festival was to collect funds for the Caisse de Secours (guides' benefit fund), the subscriptions to which were no longer sufficient to cover their needs.
Nearly a century later, the aim of the Fête des Guides has not changed. In the height of summer, Compagnie members, numerous volunteers and businessmen and women come together in aid of the Caisse de Secours in a spirit of sharing and solidarity. Events are organised in all of the villages of the valley in the days leading up to the 15 August. These include activities, meetings, shows, parades and talks to celebrate the mountains and those who live and work in them, all in a festive and fun atmosphere.
Guides pay tribute to their clients
The Fête des Guides traditionally closes on 15 August with a ceremony on the square in front of the church attended by elected officials. This formal occasion is marked by a speech from the president of the Compagnie des Guides and the official acceptance of new Guides into the Compagnie. It is also an opportunity for Guides to pay tribute to their most loyal clients by presenting them with medals for loyalty and technical difficulty, symbolising the journey taken by them as a rope team.
Download the 2022 Guides' Festival program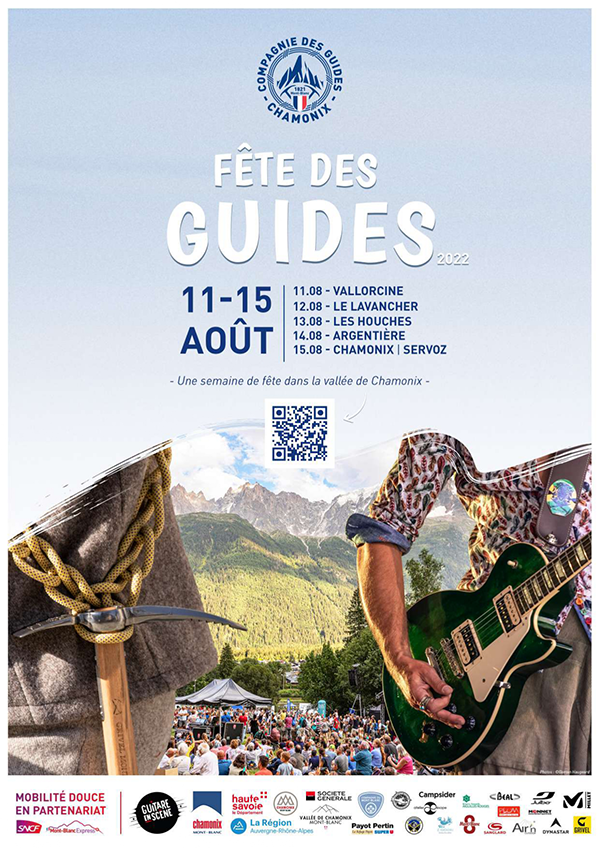 Prefer travel on foot, by bus (lines 1 and 2) and by train. Additional train timetables made available by SNCF here.
Free with guest cards and Viacham.